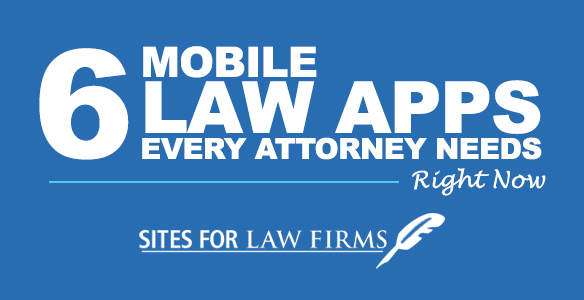 As an attorney, your performance in the courtroom often times comes down to having the edge on your opponent.  The edge can come in many forms.
For example, it could be having better evidence, better key witnesses, better preparedness, better research, better jurors, etc.
Many of these factors, you simply can't help (e.g. better key witnesses).  However, there are some factors (e.g. better research, preparedness, jurors) that you can tackle effectively by having the right tools to aide your case.
And the best part is that these tools are generally FREE and widely available everywhere since they all live on your smartphone.
Here are 6 legal mobile apps that all lawyers and law students need to download right now:
Dropbox | Cloud Storage | iOS & Android – FREE
Back in the day, I remember watching various film depictions of lawyers where their offices proudly displayed stacks of documents and books on their wooden desks. Long gone are those days due to the emergence of social and cloud computing.
There are many challengers in affordable cloud storage, but the clear champion thus far is Dropbox.
With Dropbox you get 2GB of storage right off the bat with the ability to increase that space to 18GB for FREE by doing various things like tweeting about the service or referring friends to the service.
The best part about dropbox is that you can share your dropbox folders with other collaborators on the case.  You can have separate collaborators for each case folder you decide to have.
PROTIP: We recommend that you download the desktop client for your main computer and set your mobile app to auto-backup.  So when you take photos of important documents, it automatically gets uploaded to your cloud storage.  It's the same vice-versa.
Dragon Dictation | Voice Recognition – Dictation | iOS & Android
Dragon Dictation takes your words and converts it to print.  It's surprisingly accurate voice recognition software takes your dictated legal notes, client testimony, and thoughts and presents them for you in text.
Can you imagine the time you will save having a transcript readily available for you?
PROTIP: Always review your converted notes before you make them publicly available. Sometimes people have a hard time deciphering whether to use "their", "there", and "they're".  On the same note, Dragon Dictation may have that same issue as well. 
LogMeIn Ignition – Remote Desktop Application | iOS & Android
Although it seems that smart phones can do EVERYTHING nowadays, that's hardly the case.
Sometimes you'll find that you need access to your desktop remotely.  Maybe it's because you forgot to put an important case file in your Dropbox folder.  Maybe you need to access special software remotely that is only installed on your desktop computer.
PROTIP: If you run powerful software on your desktop computers that require a lot of CPU usage or RAM, LogMeIn is a great way to take advantage of that power.  
Google Drive (Docs / Sheets / Slides) – Document Storage
Google Drive allow you to create documents on the cloud anywhere for FREE. These tools are invaluable and should be used by all attorneys and law students since it is the BEST collaborative office suite.
Google Drive includes local file-syncing, offline access to documents, built-in OCR technology, free storage space, and more.  You can use it to open, read, and write on almost every file format including PDFs, images, and more.
PROTIP: Using Google Drive for word processing and chart creation will yield MS Office worthless since Google's software can read and write on every Microsoft file format.
For practicing lawyers and law students, these are another set of MUST-HAVE mobile applications that will be a huge timesaver in an industry where research and precedence is imperative.  These tools both give you some Free content like various Federal Rules procedures, however, there are sections that are only available through in-app purchases.
Fastcase lets you search through state statutes and case law. The mobile app is setup such that you can do Boolean searches or simple natural language searches.
PROTIP: Both Fastcase and DLaw do not shepardize. Therefore you won't be able to determine if the case you're reading is still valid law. You'll need to validate your findings with other sources such as WestLaw and Lexis.
Reminders (iOS) – A To-Do App
All lawyers need a To-Do list app. This one in particular should already be free with most iOS users.  It's very easy to use.
If you have multiple cases you are working on, create a different to-do list for each case.
PROTIP: We found that it's very easy to use SIRI in create new to-do reminders on the fly.
Legal Newsance (iOS and Android) – Legal News and Resource
Legal Newsance gives lawyers and law student users access to current legal news, online resources, law jobs, and more. With over 300 legal news, opinion, analysis and blog items per week, this is a resource that all legal professionals should have on their phone.
PROTIP: Use this app daily as it highlights pertinent news across a variety of topics.
---
Have any other mobile app recommendations suitable for the legal industry? As always, share them below where the best discussions happen.