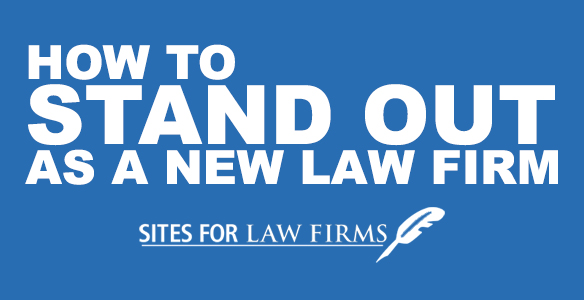 Starting a new law firm is an easy decision.  However, making a name for your firm is actually very difficult.
When it comes to representation and legal expertise, age generally equates to wisdom and experience.   Clients want to align themselves with tried-and-trued courtroom warriors and that usually screams bad news for baby-faced newly barred law grads.
That's a harsh reality that new lawyers fresh out of law school have to face.
Now let's say that you are a new lawyer and want to build your own practice, here are some tips to stand out in a sea of legal generalists.
1) Niche Down
As a new lawyer, you should really attempt to become an expert in a particular industry first. For example, if you live in the Silicon Valley, you can brand yourself as a Startup Lawyer that specializes in corporate legal services.  You would work hard to become an expert at startup counseling and general corporate matters to angel and venture capital financings to mergers, acquisitions and sales of businesses.
As you continue to build your network and share your 30-second elevator pitch, you will slowly become ingrained in the minds of your potential entrepreneur clients as the go-to startup lawyer.
2) Show Your Customers You Care
Lawyers sadly get a bad rep for being unnecessarily litigious, overly aggressive, and unapologetic.  Unfortunately, we all know that that's an absurd overgeneralization that only applies to a few.  Let's be honest.
So instead of being those lawyers, make a name for your firm and provide excellent customer service.  That type of service where if you were talking over the phone, your client can almost hear you smiling ear-to-ear through the phone.
They key is to keep it consistent.  That means, whether they are a potential client or an existing client, they receive the same level of professionalism and service.
It's one thing to talk up your firm's customer service, but it's on a different level if it comes from a completely neutral party.  When people talk about your business, it's sincere, it's free marketing, and it gives you the chance to attract the highest converting leads there is – referrals.
3) Hire a Marketing Firm
As soon as it is possible, hire a law firm marketing firm that will free up your time so you can focus on what you do best – being a lawyer.
Build your company on the right foundation.  There's no sense attempting to create your own website, learning new programming languages like SEO, attempting to meddle with inbound marketing techniques, and the list goes on.  Qualified marketing firms will ensure all of your marketing basis are covered so you can build your company and sustain future growth.
Your marketing firm is your business partner.  They will expand your top line sales by widening the client leads funnel.  The will predict potential issues you may encounter through the ever-changing Google landscape and tell you how to maneuver around them before it's too late.  They will ensure your website is up-to-date with the latest technologies while providing business strategy on how to further stand out amongst your competitors.
4) Pursue Excellence
Be the best at what you do and your law firm will thrive.  To the personal injury lawyer that will relentlessly pursue all the evidence to prove his/her clients innocence to the employment lawyer who looks under every nook and cranny to find his/her client was let go due to retaliation –– it's clear that those who pursue excellence will stand out above the competition.
In today's internet age, middle ground doesn't cut it.  Information moves at the speed of light and those who have the information no longer sit at a high advantage.   Everything is accessible.
What you have left is a solid work ethic and a pursuance of excellence for you to stand out as a law firm.  So go out there and win the handful of cases you take on.
Make your clients happy.  Make your colleagues proud.  And have your law firm stand out in a sea of mediocrity.