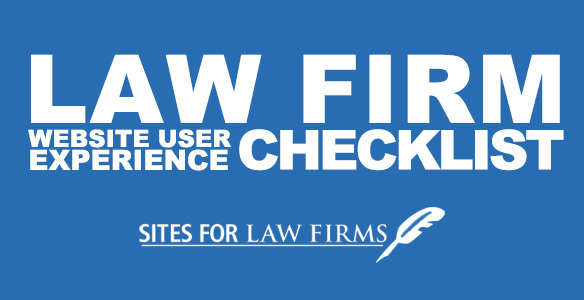 It's one thing for your law firm to be fully represented online with a website, but it's another thing to ensure that those prospective clients that do find you are not frustrated by your site's user experience.
If it's too difficult to navigate through your site because of design flaws or loading times, you increase the chance of losing that lead for good.  Good law firm website user experience improves your law firm's brand and increases conversion rates amongst site visitors.
Web marketing trends are always changing.  Not too long ago, flash media was the next biggest thing.  Before that, text-heavy sites were the norm.
As fast as those trends made it onto the scene, an equal and forceful demise soon followed.
In the end, it turned out that flash media annoyed users with its slow load times, the fact that it required difficult-to-install downloadable plugins, and moreover, how it did not work on every device.  As for text-heavy sites, well, nobody enjoys reading a wall of text.
Although there were many law firm user experience trends that faded into the sunset, there were quite a few evergreen trends that remained consistent throughout.  At Sites For Law Firms, we made it a point to hit on all of these strong user experience trends and incorporated them into our law firm website builder.  For those law firms that wanted a unique mobile custom design, we made that available to our customers as well.
As a company that is always on the lookout for our customers, we are always updating our services to be one step ahead of the marketing world.  Not to mention, we're always on top of the latest digital marketing news and ensure all of our customers receive the most up-to-date industry recommendations.
3 Evergreen Law Firm User Experience Trends
For example, here are a few recommendations that must be a priority for every law firm website:
1) Fast Website
Internet users expect websites to load within 2 seconds or less.  Anything more than 2 seconds, you risk the chance of angering your prospective client.  If you currently have a website, how long does it take to load?
On a side note, page speed is one of 200 or so signals Google uses to determine rank.   If your site loads slowly, chances are Google is penalizing your site in the search results in favor of a faster loading competitor law firm website.
2) Clear & Easy Navigation
Navigation is your prospective client's guide.  Your guide can get your visitors lost or to their destination with fluid ease.  If you're a law firm that practices multiple subject matters, it's always a good idea to break up each area of practice into its own page.   That way, a client will be able to navigate to that page where the marketing copy can communicate a message solely on that area of law.
3) Device Compatibility
Desktops aren't the only devices that need to be optimized for.  Mobile searches are currently surging. In fact leading analytics at BIA/Kelsey predict this will occur in 2015.  So that means, no more clunky site designs that simply don't work with mobile devices.
_______
With those 3 user experience items in mind, we took the opportunity to do a complete site redesign for one of our oldest clients, Cohelan Khoury & Singer, a class action and complex litigation law firm.
Their original site found below, needed 2 of the 3 user experience items above – clearer / easier navigation AND better device compatibility.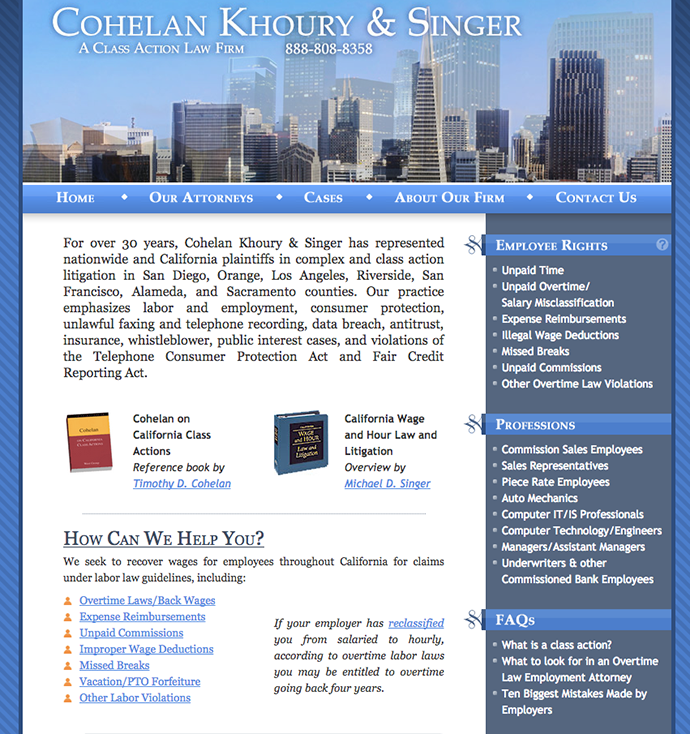 So we at Sites For Law Firms went to work.  We took CKS's provided design direction and created a responsive site fit for any screen and improved their site's navigation to clearly describe the types of law they practice.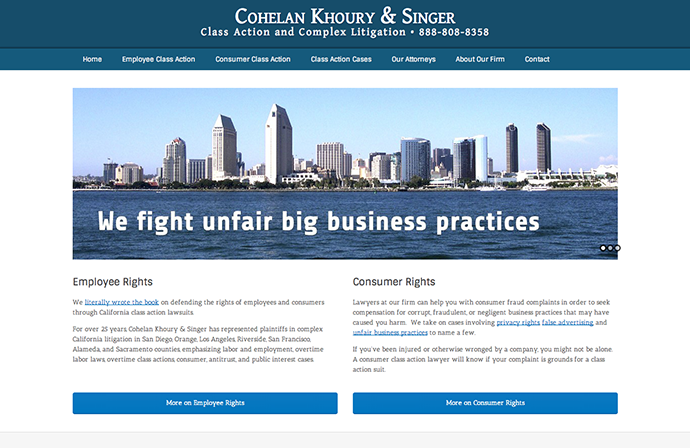 And we didn't stop there.  We tested the new site to ensure it passed the 5 second user experience test.
The old site did not pass the critical 5 second test.
In 5 seconds, if customers are not able to determine who the law firm is, what services they provide, and why visitors should care, researchers have found that website visitors will negatively judge the quality of your site.  This timeframe is very short (in some cases a fraction of a second or as little as 50 milliseconds).  Therefore, your site really needs to be on top of it.
With the newly designed site, right off the bat potential clients were able to 1) identify the name of the law firm – Cohelan Khoury & Singer, 2) what subject matter of law they practice – employee & consumer rights class action, and 3) why they matter – they fight unfair big business practices.
If you don't have a website, you need to get on it because it's a great way to acquire potential client leads. If you do have a website, ensure that it meets the 3 user experience items above.  Once you meet that criteria, do yourself a favor and have someone do a 5 second test on your site (preferably someone that has not seen your website before).
Let us know how you fared in the comments below.  Good luck!